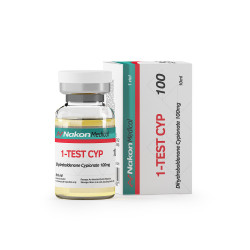 1-Test Cyp 100
- Nakon Medical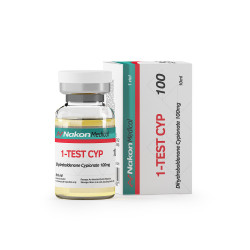 Add to Cart
1-Test Cyp 100 (Dihydroboldenone Cypionate) – anabolic steroid structurally similar to Primobolan (Methenolone), but with the absence of the methyl radical at position 1, which is used to provide bioactivity to Pimobolan when taken orally. In this drug, there are certain changes. On one side – the absence of the methyl radical in position 1 does Dihydroboldenone more potent compared to Primobolan steroid, which it exceeds 10 times anabolic / androgenic properties. But on the other hand – the absence of the methyl radical makes Dihydroboldenone more difficult bioavailability on oral administration.

1-Test Cyp 100 is not capable of converting 5a reductase, is already a "dihydro" form of Boldenone, so you can not be afraid of oily skin, acne and hair loss.

Dihydroboldenone Cypionate dosage would be enough 100-200mg per week, because 200 mg injections replaces 600 mg of testosterone esters. Women should not use this medication, although there are some good reviews about it, despite the fact that used dose was 25 mg per day.

The general effect of it is similar to Primobolan.

Warnings: Keep out of reach of children. For adults only.
J. V.

Great DHB!!

For those who find running Trenbolone a little tough, this is the next best thing! 1-Test Cyp also known as DHB is very similar in terms of the gains and results it produces, but comes with way less sides and is much more easy to tolerate in day to day life. Lean muscle gain, fat loss, strength and pumps are prominent with this steroid. Best run in the region of 400 to 500mg per week alongside some Test E that you would be best injecting at 500mg/wk. Another compound like Anavar compliments this cycle well. Many users of 1-Test Cyp agree that it gives 70% of the gains that Tren does, so it is clearly very potent and productive. Water retention is also zero to minimal so it is not a major bulking steroid as such like Deca is. It has a reputation as a feel good steroid to use so DHB cycles are always enjoyable and fun to run.
WRITE YOUR OWN REVIEW