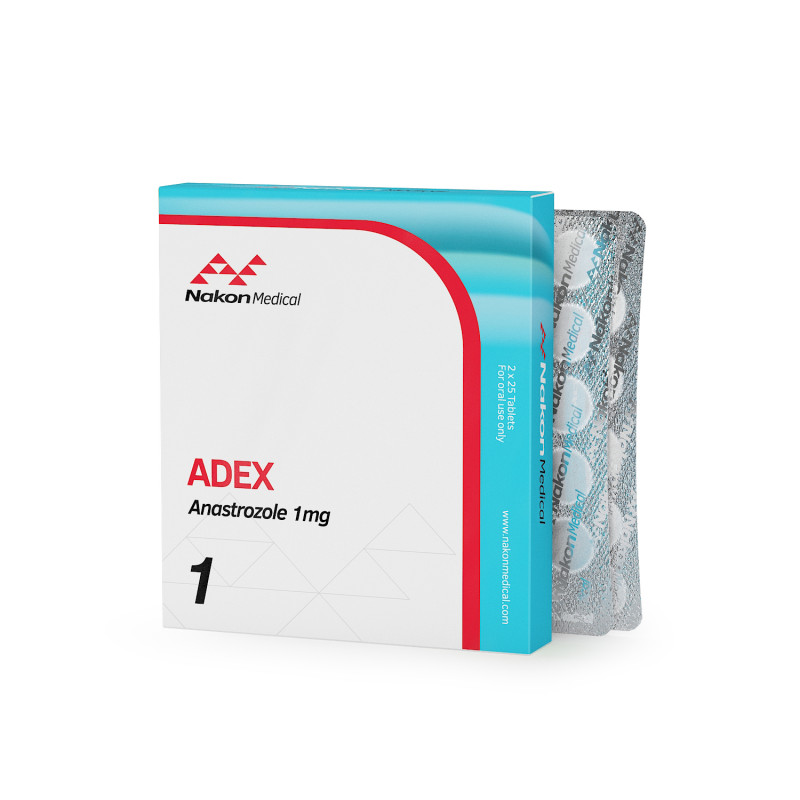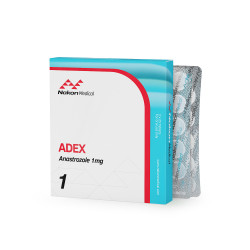 Adex 1
- Nakon Medical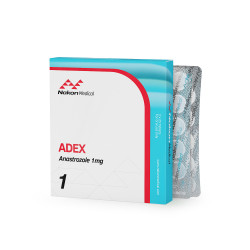 Add to Cart
Adex 1 is a potent anti-estrogen drug. If it is possible to be correct to say that it is an inhibitor of aromatase, originally developed for the treatment of breast cancer. As is often the case with many of the anti-estrogen agents for this purpose Adex 1 found its application in the world. This formulation consists of the active drug substance Anastrozole.

Adex 1 Effects:

In bodybuilding, Adex 1 has found its application in order to prevent the occurrence of gynecomastia and edema.

How to Use Adex 1: Dosage, Cycle, Reviews

The recommended Adex 1 dose is 1mg (1 tablet) per day. The full effect occurs after 10-14 days.

Warnings: Keep out of reach of children. For adults only.
M. L.

0.5mg every other day worked for me

I'm running test enanthate and Anavar and I've noticed a couple of times here and there I got some nipple sensitivity and popped these for about a week and it worked. Good stuff.

J. V.

1mg Adex Tabs

The most popular Aromatase Inhibitor currently on the market. Most people require something to keep oestrogen under control when running Testosterone anything higher than 500mg per week, especially when adding in extra compounds such as Dianabol which are well documented for causing huge rises almost immediately after consumption. Gyno problems, water retention, lactating & sore nipples, Acne, emotional disturbances are all signs that your oestrogen is too high and if left for too long uncontrolled you can end up with problems such as the infamous 'Bitch tits' scenario. Adex will take care of these problems and prevent any complications in the future. As a general guide many do well on 0.5mg every 2nd or 3rd day, or you may wish to just take a whole 1mg tablet. Bloodwork is the only real way you can tell where your levels are at so this must be done ideally before cycling and then whilst on cycle, you can then adjust your Adex dose accordingly.
WRITE YOUR OWN REVIEW