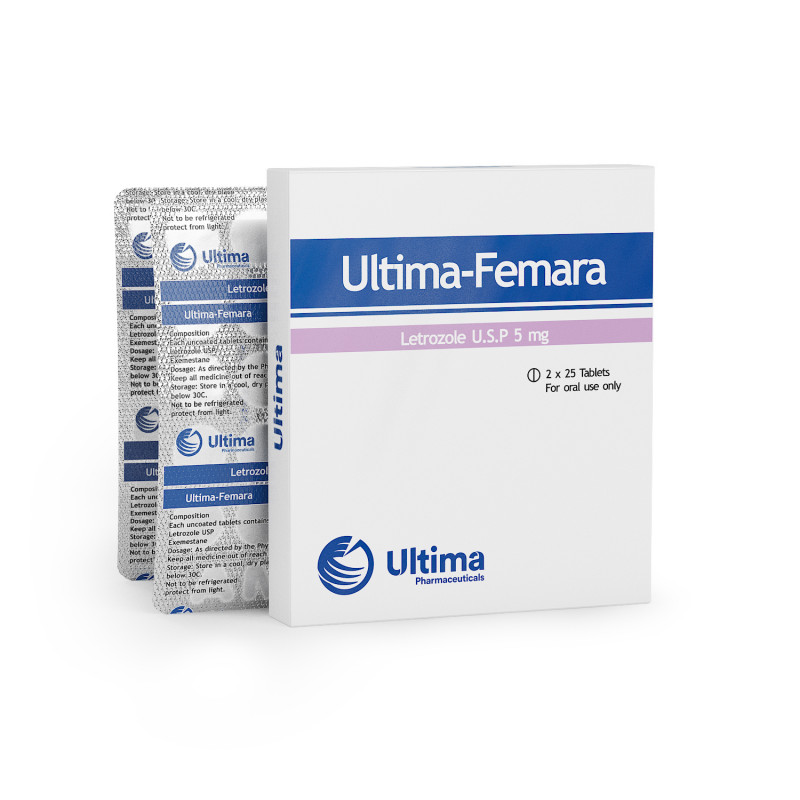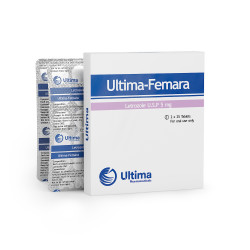 Ultima-Femara
- Ultima Pharmaceuticals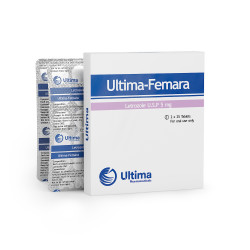 Add to Cart
Ultima-Femara product from the Ultima Pharmaceuticals company – a drug means anti-estrogen agent which has received widespread in medical and sports practice. In medicine, it is used primarily for the treatment of estrogen-neoplastic diseases (breast cancer in women), and in sport – to eliminate the adverse effects of estrogen-steroids (from water retention to gynecomastia in men), but not only.

The drug is a non-steroidal aromatase inhibitor and the active substance is Letrozole. It has been approved for the purpose of use in human: it is not a steroid, not having androgenic activity, not more toxic, not damaging the liver organ, or not a narcotic or addictive component.

Ultima-Femara Effects

Ultima-Femara by Ultima Pharmaceuticals, after drinking acts as an inhibitor of aromatase, an enzyme involved in the formation of estrogen. The mechanism of action is tied to the inhibition of cytochrome P450 genome as part of aromatase. In long-term monitoring and administering the drug provokes decline of estrogen activity by 75-95% from baseline.

Ultima-Femara belongs to the 3rd, the latest generation of inhibitors (otherwise blocker or blockers) of aromatase. In this group, Anastrozole is analogue, but not identical, Clomid and Nolvadex, as a consequence are estrogen receptor blockers (they differ both in the mechanism of action and the final effect, as do not affect the production of estrogen itself, but only bind to their receptors in organism).

It is important that Ultima-Femara from Ultima Pharmaceuticals is a relatively safe drug for humans without actually causing side effects in compliance with the recommendations. In cases of predisposition and abuse of pills can not exclude the likelihood of developing complications of the digestive (nausea to dryness in the mouth), CNS (from dizziness to depression), respiratory (from shortness of breath to cough) and even musculoskeletal (from arthralgia to osteoporosis ) systems. In overdose usually is used a symptomatic treatment.

How to Use Ultima-Femara: Dosage, Cycle, Reviews

Use of the drug is administered only inside, regardless of the food: after oral use it is rapidly and completely absorbed from the gastrointestinal tract: the bioavailability reaches 99%, and food intake has no effect on it or therapeutically significant effects.

Recommended Ultima-Femara dose is from 0.25 to 5 mg per day, depending on the needs of the body and tolerability of applying. Use of the drug typically takes place at one of two possible schemes 1 – starting with the prophylactic use for the prevention rate of estrogenic steroids complications; 2 – extra connection throughout the cycle of the steroid for the treatment of estrogen after developing complications of their primary symptoms. Regardless of the method, the drug is capable of effectively preventing the development of estrogen-side effects such as water retention, body fat growth and gynecomastia in men.

Before you plan to use Ultima-Femara, it is necessary to exclude potential risks. Recommend surveyed and consult with a specialist, eliminating contraindications: for women – it's pregnancy, lactation and endocrine status, characteristic of reproductive age; for men and women – this intolerance substances, hypersensitivity to the components included in the composition of the drug, and the children's age.

There are also restrictions under which the use of Ultima-Femara should be carried out with caution – glucose-galactose malabsorption, lactase deficiency and intolerance to lactase, capable of causing the effects. On the other hand, this drug generally does not requires adjustment of doses.

Warnings: Keep out of reach of children. For adults only.
J. V.

Ultimate Anti-oestrogen

This is a very good anti-oestrogen to use when nearing competitions and you want that extremely dry, cut and lean look. Letrozole will virtually get rid of all oestrogen in your body leaving only 10 to 20% left. Do be aware that this can make heavy lifting harder due to less joint lubrication and drier tendons etc. However most bodybuilders already make allowances for this fact when dieting down. You can also use letrozole if you are very sensitive to things like testosterone or Dbol and want the muscle building effects of them without the rise in oestrogen. For some people Adex simply is not strong enough to accomplish the job. I have also seen many use Letrozole to get rid of gyno and additional breast tissue problems resulting from natural hormone regulation problems and steroid usage. Gyno Breast tissue can often be completely rid of using letro every day.
WRITE YOUR OWN REVIEW