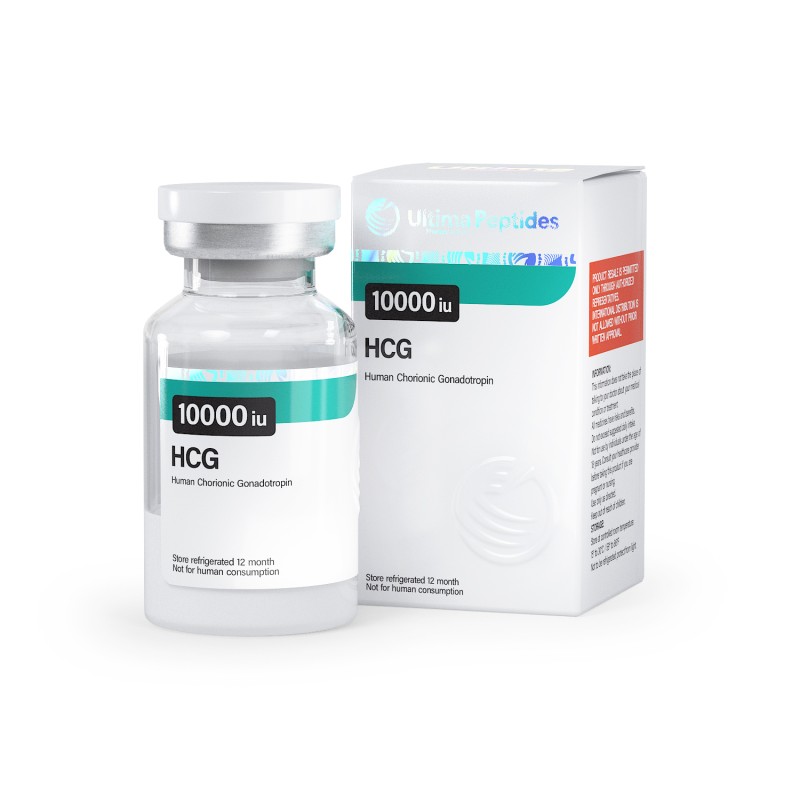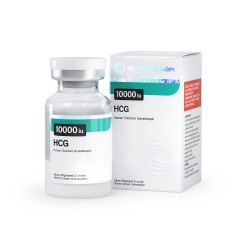 Ultima-HCG 10000IU
- Ultima Pharmaceuticals - US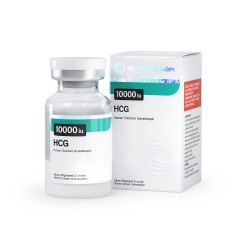 HCG 10000iu is an injectable drug manufactured by Ultima Pharmaceuticals and containing as active substance Human Chorionic Gonadotropin (hCG). This is a hormone produced during pregnancy that is made by the developing placenta after conception, and later by the placental component syncytiotrophoblast. One of the uses of hCG is to suppress hunger and trigger the human body's use of fat for fuel. hCG is used also to cause ovulation and to treat infertility in women, and to increase sperm count in men. bodybuilders use it in steroids cycles and in post cycle therapy to lose gain and to increase Testosterone production.

HCG is utilized among bodybuilders and athletes at the end of an anabolic-androgenic steroid cycle to prevent the breakdown of muscle tissue. It is also important in restoring the testes to the normal abilities. Many times after a period of anabolic steroids usage the testes of an athlete may shrink. HCG is effective in returning them to normal size. When used along with a very low-calorie diet, athletes burn off that extra fat over their muscle mass. Females may also use HCG with a very low calorie diet to burn off unnecessary fat.

The average dosage of HCG during a cycle is between 500iu to 3000iu every week (1-3 times per week). If the injection is taken more frequently the blood level of the athlete are more stable while taking it in one shot may increase the estrogen levels caused by the aromatization of normal Testosterone and result in gynecomastia. There are sources showing that some bodybuilders used 6000iu for 6 days, but this is a risky affair and depend on the individual features of men. As post cycle therapy HCG should be used in smaller doses, about 250 – 500iu every day for 2 or 3 weeks. Smaller doses are enough to begin reversal process of testicular atrophy. When starting a cycle of hCG, bodybuilders must follow it for 2 to 3 week range with a least one month off in between and follow this course with no concern. HCG can be used with Clomid or Nolvadex in the PCT and continue using them after HCG is no longer part of the cycle. It is also recommended to start and hCG cycle near the end of a normal steroids cycle, most effective in the last week.

The most serious side effects that may occur while using HCG are: severe pelvic pain, swelling of the hands or legs, stomach pain and swelling, shortness of breath, weight gain, diarrhea, nausea or vomiting. Other common side effects of HCG are: headache, feeling restless or irritable, mild swelling or water weight gain, depression, breast tenderness or swelling; or pain, swelling, or irritation where the injection is given. Among boys the medicine can cause early signs of puberty, such as a deepened voice, pubic hair growth, and increased acne or sweating.
M. R.

Ultima HCG

Had used HCG from a compounding pharmacy and was looking for a product with the same potency. Ultima lives up to its reputation. Increased libido and maintained size in the area needed just as before.

J. A.

Works great

2ml bac water worked perect for me. I do trt so i do both injections twice a week. sub q one on left and one on right abdominal area. Definitely helps keep the boys where they need to be.

D. S.

How to use

This will come with freeze dried powder . You need to purchase BAC water and reconstitute the substance.Add 2ml into the vial this will become 5000iu per 1ML . If the desired result is 500iu pin .1cc (1/10th)

A. E.

Ultima-HCG 10000iu

Having used HCG from a local compounding pharmacy before, I can say this is legit. Labido went up and so did the size of my balls which was what I was looking for since the shrinkage from TRT was bugging me lol.

R. T.

Ultima HCG

Works exactly as intended. Very high concentration so I would recommend playing around with bacteriostatic water content if you're a little more sensitive to subq injections but everything worked as it should. I have used Para HCG and this one and both are great at 250x2 or 500x2 even up to my high 1000x2 a week!
WRITE YOUR OWN REVIEW