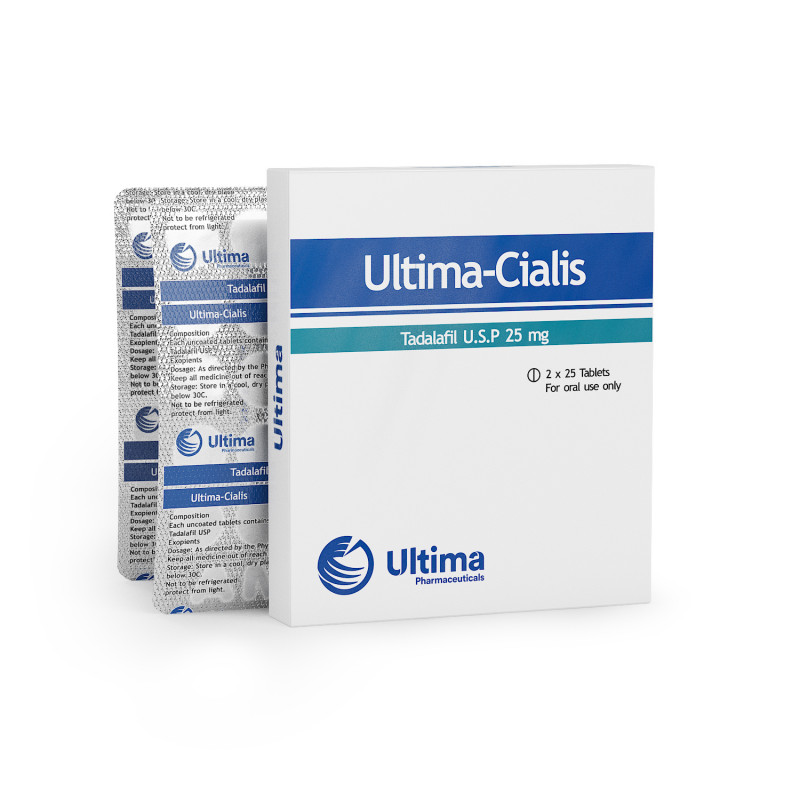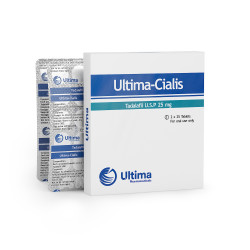 Ultima-Cialis
- Ultima Pharmaceuticals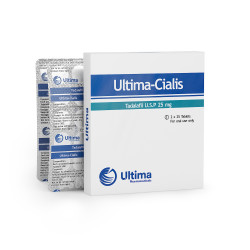 Add to Cart
Ultima-Cialis (Tadalafil) is an oral drug manufactured by Ultima Pharmaceuticals and containing active substance Tadalafil which is used to treat male sexual function problems (impotence or erectile dysfunction) by blocking a certain phosphodiesterase enzyme in the body. It also treats benign prostatic hyperplasia and urination problems.

Ultima-Cialis works by increasing blood flow to the penis during sexual stimulation. The usual dosage of Ultima-Cialis is 25 mg, it can be taken about 15-30 min before the sexual intercourse and the effect can last for about 36 hours. The main side effects provoked by the usage of Ultima-Cialis are: chest pain, flushes, headache, stomach disorders or nausea. Ultima-Cialis comes in boxes, each unit containing 50 pills (25 mg per pill).
K. P.

CIALIS

I've been splitting each tablet into 4 pieces. Taking a Quarter of a piece everyday. Adds up to be a little over 6mg that I'm taking each day. I got it for its increased blood flow effects with the pumps being a bonus. With Ultima Cialis you know you're getting what you paid for as soon as you take it. I've only taken in real small doses so I've not had any real issue with face flushing or anything. The very first time I took it, was the only time I might've had very slight face flushing. Was very minor though. Been taking for 6 weeks and haven't had any negative side effects. I don't have anything but positive things to say about Ultima Cialis from Osgear. Which is the case for anything and everything I've ordered through Ultima from Osgear. My #1 source.

L. H.

Works Well

No complaints, does what it needs to do in and out of the gym.

M. R.

Good to go

For gym pumps or bed room pumps this works well with both. Definitely ordering again

J. A.

Review

Have used plenty of different Pharma brands but ultima has not missed a single beat, have used osgears ultima for over 1.5years not and i have not had a single product i was not happy with, excellent once again!

J. M.

Pump

Pumps in the gym, and pumps with the lady. I only need to dose once every two days for it to stay effective.
WRITE YOUR OWN REVIEW