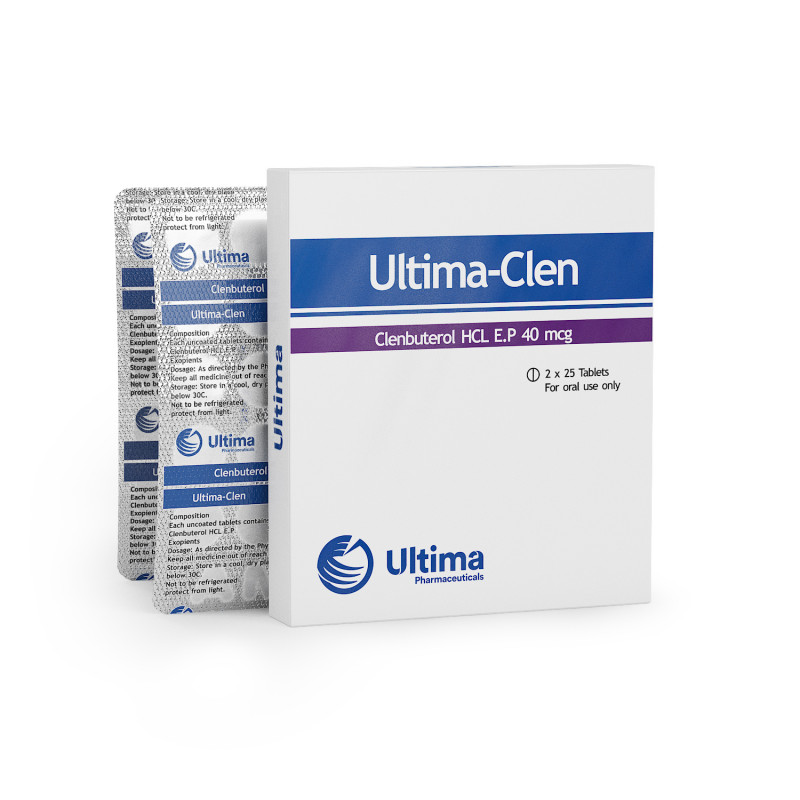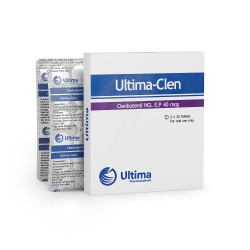 Ultima-Clen
- Ultima Pharmaceuticals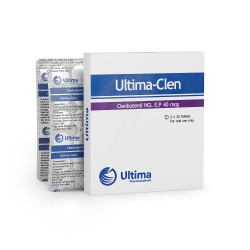 Add to Cart
Ultima-Clen – a drug with the active substance Clenbuterol Hydrochloride, which is taken by athletes and bodybuilders to speed up the metabolism and for efficient fat burning in the drying period. Ultima-Clen can be ordered in the form of tablets (the most common choice among athletes).

Note that this drug does not apply to the steroids group, so for this drug is not characteristic the anabolic effect. The drug belongs to the group of symptomatic drugs and was originally used in medicine to combat the attacks of bronchial asthma.

Ultima-Clen Effects

- stimulation of fat burning and rapid weight loss (in the drying period);
- acceleration of metabolism;
- fever and loss of appetite;
- powerful stimulation of the nervous system (mental activation, to the extent useful for the low-carbohydrate diet);
- anti-catabolic effect (promoted the use of Ultima-Clen at PCT).

How to Use Ultima-Clen: Dosage, Cycle, PCT

Ultima-Clen is available at an affordable price. However, to avoid possible side effects (shivering in the joints, tachycardia, anxiety, insomnia, increased heart rate, etc.), should not be used at unjustifiably higher dosage than the recommended one.

The standard cycle scheme for the first 5 days is as follows:

- 20 mcg is taken in the first day.
- The dose is increased to 40 mcg in the second day (with a marked impact on the nervous system, you can already start taking Ketotifen).
- On the third day, the dose is 60 mcg.
- On the fourth is increased to 80 mcg.
- Next days is taken by 100 mcg with three Ketotifen tablets.

The dosage can be increased to a maximum of 140 mcg, if necessary (in the absence of side effects). But, at the expiration of eleven days to go to a decreased dosage (up to 40 mcg). Note that Ultima-Clen tablets can be bought at a dosage of 40 mcg.

Two weeks later, it is recommended to make a break for 1-3 weeks and only then resume the cycle. It is important in the process of applying to drink plenty of water (at least 3 liters per day) to avoid muscle spasms and tremors in the joints.

Ultima-Clen at PCT, is used as anti-catabolic agent and is often taken by bodybuilders. The effect in this case, low-grade, but the action is justified.

Ultima-Clen Combination Cycles

Ultima-Clen Tablets are advised to buy for fat burning effect, and for greater efficiency of the cycle you can buy some more drugs. For example, Yohimbine, which should be taken by gradually increasing the dosage of 5 mg to 20 mg (20 and 80 mcg of the drug). Medicines need to be used in the morning to avoid insomnia.

During the cycle, you need to take a sufficient amount of BCAA, protein and special diet for drying.

Ultima-Clen Reviews

Exploring this drug, it is worth noting that Ultima-Clen at PCT, from reviews, has established itself as a popular tool with the necessary anti-catabolic effect.

Bodybuilders who take Ultima-Clen, are advised to buy pills for effective weight loss before the competition during the two-week cycle. To buy Ultima-Clen tablets for men is recommended primarily for "drying" period. Publishing reviews, sportsmen point to the elevated temperature during use, in which it is easy to determine whether the drug did not cause addiction (when the body temperature drops to normal levels).

Warnings: Keep out of reach of children. For adults only.
David M.

Ultima clen tabs

Wow what can I say such a good product from the os gear team. delivery was fast the o.s gear team was very answering all my question about shipping My wife got some awesome result thank you guys !

Yusef T.

Ultima-Clen

Legit product and accurately dosed! I have the hand tremors and night sweats, absolutely loving it.

Rachael T.

Ultima-Clen tablets(40mcg.)

Well 1st off I have to start off by hanging Team O.S. for being so generous to me over the 6 years I have been with them. The Ultima-Clen was part of a promo that Team O.S. was so nice enough to allow me into. I personally have never used Clen. but the wife loves it when she wants to shed a few pounds without making extreme changes to her diet. She says Ulfima- Clen is her favorite because it makes her sweat at night so she knows not only is it real & working but as a piece of mind she knows she's sweating off the pounds literally. She isn't big into the gym scene as many of us here are but she likes to experiment with mild diets, new /different foods and taking most of her advice from me when it comes to taking these different compounds. She is currently on week 3. Week 1 & week 2 she used 20mcg 1st thing in the a.m. on an empty stomach. Week 3(currently on now). Most other brands of clean, she's able to bump it up to 40mcg by week 2. Not this time. She will be pulsing this Ultima Clen for 3 weeks on followed by 3 weeks off until the 50 tabs are gone. At the end of this clen only cycle I will get back to u guys and inform u on how much weight she has lost. Remember, she is not a gym rat, bodybuilder, or bikini model. She is a healthy dieter, mild cardio, gets 8hrs. of sleep and stays fully hydrated. Wwelk that's the best I can give u up until this point but can definitely say it is doing what its suppose to do &some. Thank you Team O.S.
WRITE YOUR OWN REVIEW