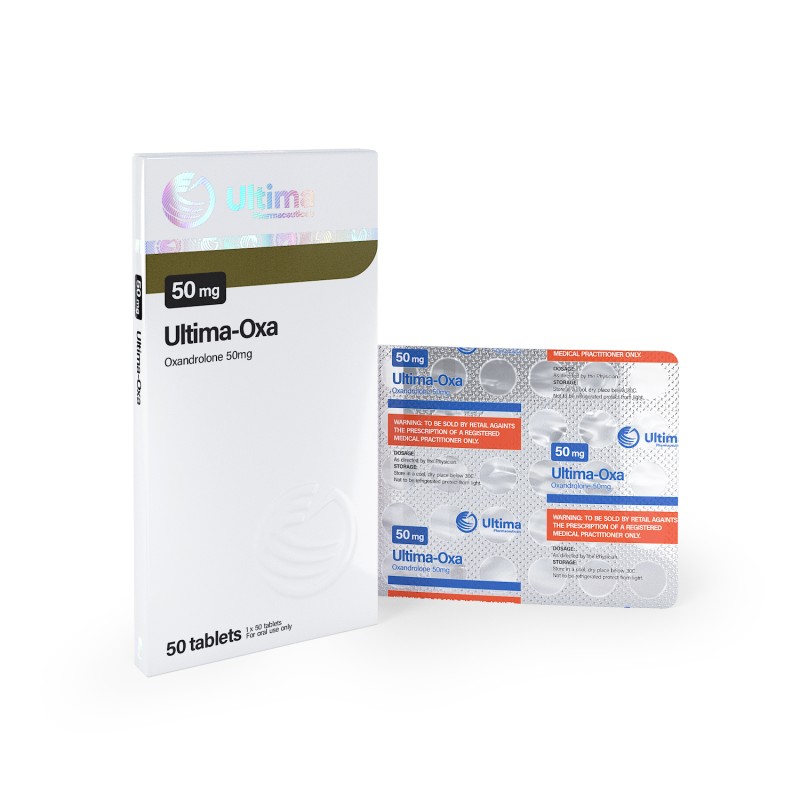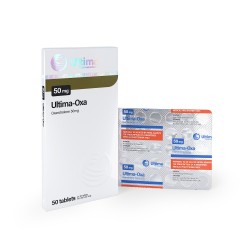 Ultima-Oxa 50
- Ultima Pharmaceuticals - US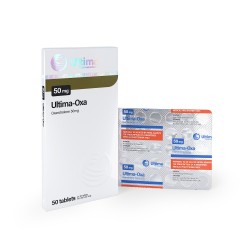 Add to Cart
Ultima-Oxa is an anabolic steroid that is created in a synthetic way and is used by beginners and experienced athletes to form a qualitative, relief structure of muscles.

The active substance of the drug is a synthetic steroid Oxandrolone, created in the 60's for medical purposes (as an immunostimulator for HIV patients, anemia). Initially, this anabolic was produced under the trade name Anavar, but since the 80s of the last century, many analogues have been produced in the market of sports pharmacology.

Ultima-Oxa Effects:

- Increased protein synthesis in muscle fibers;
- Formation of well-delineated, relief musculature;
- A significant increase in strength, endurance;
- Marked burning of subcutaneous fat;
- Anti-catabolic effect.

How to Use Ultima-Oxa: Dosage, Cycle, PCT

Making a solo course with Ultima-Oxa, it is easy to avoid possible side effects (decreased libido, lack of appetite, increased pressure, sluggish erections, etc.), if you adhere to several general recommendations:

- The steroid should be started with a minimum dosage (10-20 mg/day), gradually increasing it.
- The maximum dose for an adult male is 80-100 mg/day.
- At the end of the course, during the last two weeks, the dosage should be gradually reduced to the minimum value.
- The course duration of Ultima-Oxa solo averages from 6 to 8 weeks.

Ultima-Oxa, according to reviews, is often used to increase the strength or the formation of muscles' relief, also women can use it, observing a maximum dosage of 50 mg.

Ultima-Oxa Combination Cycles

Since the last week of the course, it is recommended to buy Tamoxifen (or buy Nolvadex), use it at the rate of 10 mg per day, to resume Testosterone production, within 2-3 weeks.

You can take the drug with other steroids (for example, you can buy Sustanon or buy Testosterone or buy Primobolan) to increase the effectiveness of weight gain courses. Do not avoid consulting a doctor to check beforehand your body's predisposition to such stresses on the liver.

Ultima-Oxa Reviews

Leaving Ultima-Oxa reviews, most athletes on the forums warn of the low effectiveness of the drug in the period of weight gain. The steroid is used primarily before the competition, as it provides a fat burning effect and forms a quality, well-defined musculature. Ultima-Oxa, according to reviews, has a low toxicity on the liver, while there is no effect of aromatization.

Warnings: Keep out of reach of children. For adults only.
D. J.

Ultima Oxa 50

Definitely becoming my favorite oral the mental/mood benefits are great and the pumps I get are amazing as well. I would say I have put on a decent amount of steady lean muscle with the added bonus of weight loss. Definitely give Ultima your pick for Anavar they have never disappointed.

A. K.

Ultima-Oxa 50

Another great, quality product delivered to my mail box in less than 7 days. Strength gains will be noticed within a few days. Taking it alongside Test and Decca. The wife is also taking this and is very happy with it.

C. A.

touchdown

package arrived quickly and was what i ordered with a extra gift. product tested using reagent, came back 50mgs var as it should. highly recommend.

R. S.

Great product, lightning quick shipping

Taking 50mg a day, alongside 500mg of test e. Pumps, energy and libido are through the roof. Shipping took 3 days from order date to my door, quickest shipping i've ever experienced. Will be sticking to OSGear and Ultima from here on out.

A. E.

Ultima Oxa 50

Used for 6 weeks. Towards the end of that run I was starting to see my cephalic vein become more visible going further up my bicep especially with a good pump. I've never been able to see it before in my life. It felt like this helpes with recovery as well as I had good hard gym sessions increasing weight and reps and wasn't ever really sore the next day. I'll definitely be doing another round before the end of the year.

R. M.

Legit product

Been using this product for a week or so. I can feel the pumps within 4 days of taking this product. I even decided to take only half of these and still feeling great pumps and vascularity. All too often with Anavar the product is under dosed or not legit. Aside from the tests results provided, you can feel this is the real deal within a few days. Also shipping was absurdly fast for this product.

A. E.

Ultima Oxa 40ng

I was leary of ordering this kind of stuff as I had never done it before. I've been doing my first cycle of this and Ultima-Cyp 250 (500mgs/wk) and after about 5 weeks I'm able to see the cephalic vein in my bicep even without a major pump. I'm still around 24% body fat and have never had that visible before. I've also found recovery has been greatly enhanced by these. I'm hardly ever sore for more than a day and I've been hitting it pretty hard and gradually increasing the weight on everything.

N. C.

The Real Deal

Have used this product for two separate cycles and felt the effects within the first 24 hours each time. OSgear and Ultima are the perfect combination to acquire this product. I've run a number of Ultima products at this point with no disappointment, and this Oxandrolone has never disappointed me.
WRITE YOUR OWN REVIEW