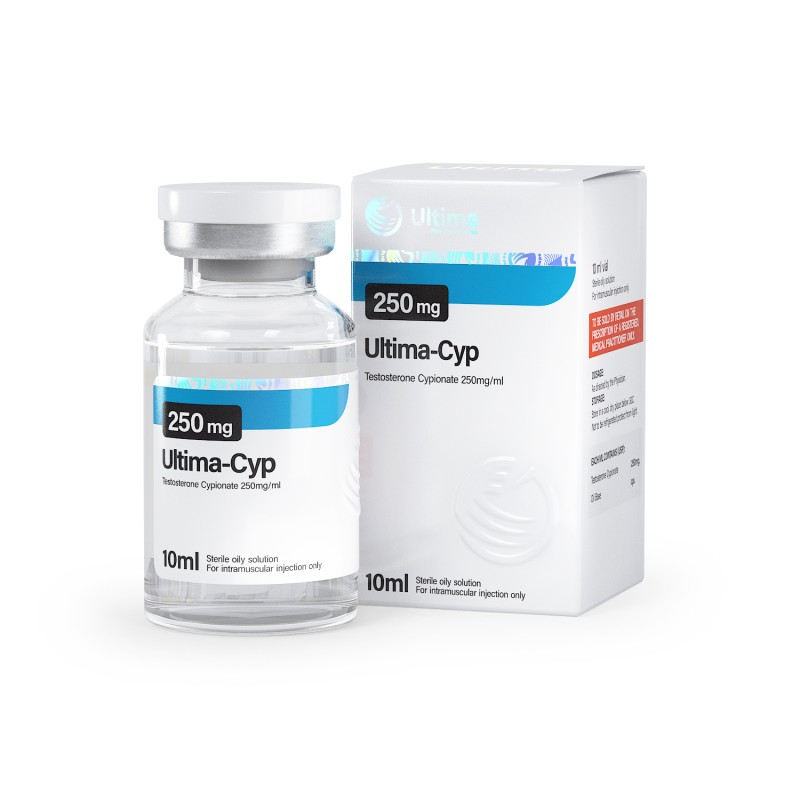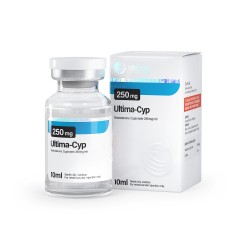 Ultima-Cyp
- Ultima Pharmaceuticals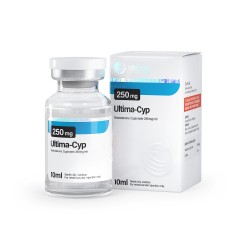 Add to Cart
Ultima-Cyp - injectable anabolic steroid with prolonged action (about 2 weeks), the use of which is accompanied by a significant increase in muscle mass, endurance, performance and power.

As the basis of the Ultima-Cyp drug, is used the most "long" testosterone ester – Testosterone Cypionate. This material is very popular in the US since the middle of last century. Ultima-Cyp has high androgenic activity (100%) and anabolic (100%), flavoring properties and water retention.

Ultima-Cyp Effects

- muscle significant increase;
- increase oxygen mass in the blood, endurance;
- provision of spermatogenesis, increased libido;
- optimization of nitrogen and phosphorus balance;
- growth of power capacity;
- strengthen joints (due to water retention in the body).

Ultima-Cyp side effects often are associated with the ability of testosterone to be converted into estrogen (aromatization effect). These ready-made steroid cycles require mandatory use of anti-estrogens and aromatase blockers to avoid the effects of gynecomastia. Exceeded dosages also cause androgenic sides (possible growth of hair or hair loss, acne, high blood pressure and others.).

How to Take Ultima-Cyp

How to increase the level of testosterone via Ultima-Cyp steroid with minimal risk to the body? Observe several important recommendations in the preparation of the cycle:

- Optimal for efficacy and safety for the body dose of Ultima-Cyp: a weekly dose of 250-500 mg. Increasing the dose of Ultima-Cyp is not justified and is fraught with unpleasant consequences.
- Buying anabolic steroids should be on the basis of a cycle of 8-10 weeks.
- Ultima-Cyp cycle requires the mandatory use of anti-estrogens (Clomid, Nolvadex).
- When using testosterone for 4 weeks or longer, should be included Gonadotropin (you may buy Fertigyn or either buy HuCoG 5000 / buy HuCoG 10000) on cycle (once a week, 500IU).

Because increasing testosterone artificially, reverse effect is always accompanied by the suppression of testosterone production in the body, for the cycle must buy Tamoxifen (to be used in a dose of 10 mg every day for two weeks after the last injection of testosterone). Also, it is advisable to always use Proviron, starting from the second week of the Testosterone Cypionate solo cycle (which, at the end of the cycle you need to replace with Tamoxifen). These measures will help to avoid an increase in testosterone, and suppression of body's own.

Ultima-Cyp Combination Cycles

Despite the high efficiency rates of testosterone cypionate solo, athletes achieve even more results by combining Ultima-Cyp with other drugs. For example, to maximize the growth of quality muscle mass with Ultima-Cyp is recommend to buy Nandrolone Decanoate (using a dosage of 200 mg every week). Also, for a combined mass gaining cycle you can buy Dianabol, buy Parabolan, buy Winstrol or buy Winstrol Depot. Athletes with no experience of using anabolic steroids need to be sure to consult with their doctor to evaluate the tolerability of such stress on the body.

However for beautiful muscles, steroids alone are not enough. It is necessary to have a proper diet and do not forget about your health. That is why it is also recommended to buy fat burners, peptides, dietary supplements and vitamin/mineral supplements.

Ultima-Cyp Reviews

Ultima-Cyp reviews on forums indicate that anabolic – an effective means of increasing such indicators as the increase in muscle mass (by the way, the quality of which 84% athletes are satisfied with, after the cycle), gain endurance, strength and aggressiveness in the gym. In general, testosterone, reviews, are positively evaluated by 8 of 10 athletes. Based on the statistics, 86% of bodybuilders and athletes are satisfied with the overall results of the cycle. Approximately the same number (79%) believe that the price of Ultima-Cyp match the required quality.

Warnings: Keep out of reach of children. For adults only.
Michael R.

Good to go

Quality stuff no problems and shipped at a reasonable time frame.

Adam K.

my favorite

my favorite test cyp. clean oil pins smooth and consistent quality. Im definitely buying again.

Josh R.

Test Cyp

I got a few packs when they were buy 1 get 1. Definitely a good way to go about it. To be fair I feel it needs to be pointed out when the promotion was in effect the price per pack was $62. The price now, when there is no promo is $42. This is a good product, I had very little side effects until i got up to around 800ml/week. Personally I feel the raised estrogen no matter what I'm doing. My nipples act like they are looking for somebody but for me its the same feeling at 250ml as it is at 800ml. But at the 1000ml and up area is where i notice the sides. Heartburn is one, I only feel at 1000ml+. I get shortness of breath in this range. Its very obvious, to me and others. Sex is very much improved if im not adding much tren A. The wife sees the difference. So just watch your body. For me , Heartburn, shortness of breath and the raised estrogen were issues. But the blood pressure is something you have to be mindful of above. You aint gonna forget it tho if you are there. Product is good, just pay attention.

John P.

Clean pure

Good gear some if the best I've ever had

Alex M.

Working Great

Overall great experience so far with this test (same as the test E by Ultima)! The packaging had no issues with sealing on delivery, the oil is fairly easy to extract and administer. Injections haven't been too bad with minimal post injection pain after getting the technique down (would definitely still suggest warming the vial before usage to make things even easier). Negligible side effects on 400mg/week so far and feeling good. Would definitely reccomend this product

Adam S.

Solid Product!

Pro's: - Product arrived in a little over 2 weeks compared to 4 when i've used a well known competitor. Received shipping updates and tracking number. - Product comes with verification code so you can verify authenticity directly with the manufacturer - Packaged extremely well and discreet Con's: - Expiration Date from manufacturer differs from what is stamped on the box. The manufacturer says it will expire 1 year sooner than what is on the box. This is a minor complaint though as both dates are beyond 1.5 years out so for most people this is not an issue. Overall I would recommend osgear!

Josh S.

On point

Clean oil with no murky look. Pins smooth!

Ryan S.

quality!

This stuff works perfect. Consistent quality every time!
WRITE YOUR OWN REVIEW