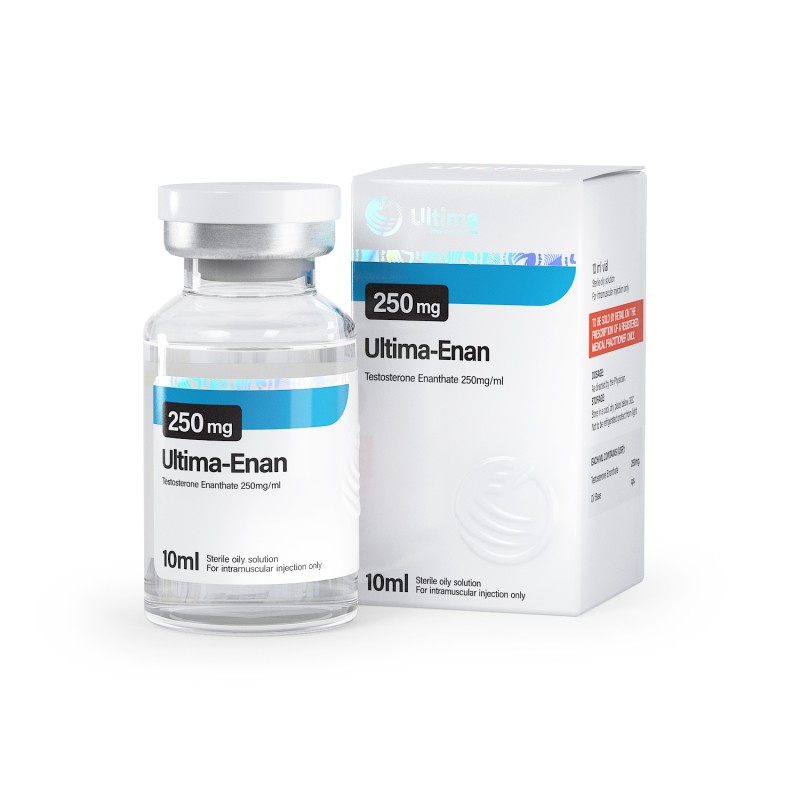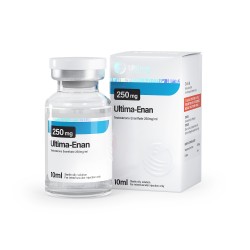 Ultima-Enan 250
- Ultima Pharmaceuticals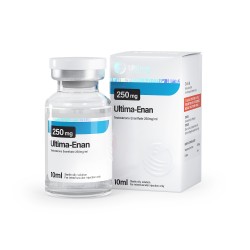 Add to Cart
Ultima-Enan (Testosterone Enanthate) – is an ester of Testosterone. This is one of the most popular bodybuilding steroid intended for gaining muscle mass. It relates to a long acting steroid. The duration of action of Testosterone Enanthate depends on the characteristics of the athletes organism (metabolic, hormonal) and can last from two to three weeks.

Ultima-Enan Effects

Among the main advantages of this drug – it is expressed in muscle mass and strength gains too (that's why it is so highly prized by powerlifters and weightlifters). Androgenic effects of testosterone enanthate combines (Ultima-Enan) with anabolic. Rapid weight gain associated with the rapid accumulation of water in the body, due to the fact, that is delayed sodium and estrogenic action. Be prepared for the fact that at the end of the reception it is likely to be a very significant rollback effect. Ultima-Enan also helps eliminate problems with joints, and will also helps to get rid of the crunch in the shoulders and strengthen the intervertebral discs.

Ultima-Enan injections stimulates regeneration processes in the body. Testosterone Enanthate improves the overall tone, gives the desire to train, as well as increases the oxygen capacity of the blood.

How to Use Ultima-Enan: Dosage, Cycle, PCT

Do not forget that the drug has a strong flavoring, ie has the ability to transform into active estrogens. If you want to enhance the effect of the intake of this steroid, it should be used in conjunction with Oxymetholone, Nandrolone, Methandrostenolone (Dianabol) and Trenbolone.

The recommended dose of this drug – 250-500 mg (per week). The injections are carried out once a week. The cycle lasts for 6-8 weeks. Reducing the dose should be gradually, over the last 1-2 weeks.

Warnings: Keep out of reach of children. For adults only.
L. H.

Highly Recommend

Used this product for 12 weeks at 500mg a week. Some of the best test that I have used. No PIP and felt smooth

C. S.

Hochwertige Qualität

Beste Test E das ich je hatte.

J. V.

Best Test Enanthate Right Now!!

So she may not be the highest dosed Test Enanthate compared to some others, but this 250mg/ml long estered Testosterone is simply brilliant in every way. Lab reports keep coming out with it slightly overdosed too so you will definitely not be left short with it! I can feel this stuff as soon as I inject it same as I can with any potent, good quality enanthate. It literally begins building up on injection and even 6 to 12 hours later gives you enough energy to train on even if its your first injection of the cycle. Not a single bit of PIP to speak of, no lumps or finger bending barrel plunging. It draws and injects with ease. The RAW quality of the testosterone is second to none as with all the Ultima range and should be the base of everyone's steroid cycle. You can never have enough of this stuff even for when you are planning ahead a year down the line. Whatever your targets or dreams this will help you get there effortlessly.

A. B.

Test E

Altima test e is great. Application site has no irritation. OS delivers discreet

A. W.

Bloodwork came back perfect

I run 200 mg test E year round. Tried Ultima and love it. Went to 500 mg a week and free test was 1.68 after 8 weeks. .No inflammation after pinning and putting on mass fairly quick. Would highly recommend!

N. B.

Seems high quality

Can't wait to see the gains I get from this

A. T.

Staple product!

The best test I've ran, smooth and consistent. Should be a staple for everyone!

B. L.

Solid test

Some of the best test I've used

B. L.

Great Test

Forsure some of the best test I've used

D. G.

Best UGL testosterone I have used

I have been able to use the Ultima Enan 250 for an extended period of time now. I can honestly say this has been one of the best UGL tests I have used. Always feel great on it, get amazing gains while using it and from bloodwork I have been able to see that it gives me the same numbers as the prescription pharma test I use for TRT. Will continue buying for a long time.

J. A.

Review

Have used plenty of different Pharma brands but ultima has not missed a single beat, have used osgears ultima for over 1.5years not and i have not had a single product i was not happy with, excellent once again!

R. E.

Ultima Enan 250, Verified Product

Product delivered with no problems, already verified on the Ultima Site. With so many scammers out there it is great to find a supplier who it true to their word. Thank you OSGEAR.SE I will definitely be ordering from you guys again VERY soon.

R. E.

Ultima Enan 250, verified

Received my order today, verified the product through the Ultima site. It's legit and I'm stoked. There's so many reviews out there and a lot of bad Intel to wade through to find legit sources, thank you OSGEAR.SE for coming through.

A. G.

Good stuff

Bloodwork came back with everything on point

D. N.

Amazing!

Real deal! Bet site to buy!

D. N.

Great product

Usually ships fast. Glade I bought from them.

T. S.

Great gear

Best enanthate iv ever used

A. M.

Would Recommend

Overall great experience so far with this test! The packaging had no issues with sealing on delivery, the oil is fairly easy to extract and administer. Injections haven't been too bad with minimal post injection pain after getting the technique down (would definitely still suggest warming the vial before usage to make things even easier). Negligible side effects on 400mg/week so far and feeling good. Would definitely reccomend this product

J. M.

Always choose ULTIMA

I always choose ultima gear, great base for on cycle or even when I'm on a TRT regimen. It's a high quality product for a great price

L. L.

Great Product

The Ultima Enan is an awesome product. The oil is very thin which makes injections using insulin needles possible. I'm on TRT and do 2 injections a week at .4 ml an injection. I use 29 gauge insulin needles for injections. After a few weeks, I did blood tests that showed my testosterone levels on the high levels( over a 1000 ng/dL) which confirmed the Ultima Enan was delivering a quality test product. The low cost high quality is why I will continue using Ultima for my TRT needs.
WRITE YOUR OWN REVIEW